After a brutal 18 months, "risk on" is making traders money again.
Regular Stanberry Research readers are familiar with the concept of the "risk on" trade... as well as its counterpart, "risk off."
The "risk off" trade is putting money into cash and dividend-paying blue-chip companies that deal in basic consumer products, like soda, beer, cigarettes, mouthwash, and toothpaste.
The "risk on" trade is a bet on assets like Brazilian commodity producers... Chinese travel companies... copper miners... microcap oil companies... and tiny
junior mining stocks
. You're in the riskier, more volatile areas of the market... like natural resources, emerging markets, and infrastructure.
These "risk on" assets tend to move together in a big bundle. And much more than the safer areas of the market, they exhibit big "boom and bust" cycles...
Late 2010 and early 2011 saw the "risk on" trade undergo a huge boom. Canada's
Venture Exchange Index
– the "Dow Jones of small resource stocks" – gained 81% in nine months. Caterpillar, which makes construction equipment, more than doubled.
Then from mid-2011 to mid-2012, safer stocks soared... and the "risk on" trade suffered a big bust. The benchmark CRB commodity index shed nearly 30%. Brazil's Bovespa index dropped more than 30%.
But today, the "risk on" trade is recovering.
Take a look at the chart below. It shows the last two years of trading in flagship resource producer BHP Billiton (NYSE:
BHP
). BHP is the world's largest mining company. No one can match its assets in
iron ore
, coal,
uranium
, base metals, gold, alumina, and energy.
Since last summer, BHP shares have soared 30%. They're nearing a major 52-week breakout.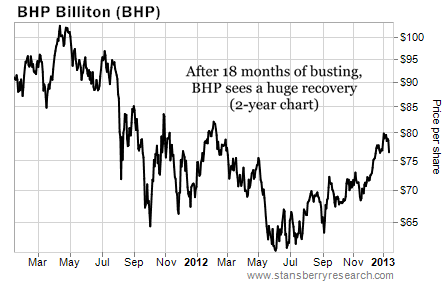 BHP isn't an isolated example of the "risk on" trade working.
Emerging-market stocks
are surging.
Airline stocks
, which are very risky, have soared to 52-week highs. Shipping stocks are taking off. And the benchmark Index for Chinese stocks has rocketed 16% higher in a month.
These assets won't continue higher without a few sharp pullbacks along the way. But if you're in the "risk on" trade, the trend is now your friend. Global central bank money printing is "goosing" these positions higher... and the trend could last for more than a year.
Bottom line, "risk on" is now a dominant force in the market.
– Amber Lee Mason and Brian Hunt