In May, I pounded the table on stocks...
By mid-September, the S&P 500 Index had surged 12%. Economic reports showed the housing market was recovering. Manufacturing and retail sales data had also strengthened.
But stocks were getting a little ahead of themselves. Valuations had become stretched. So I told you to expect a pullback over the next few weeks and
to take some profits off the table
.
Since my write-up, the stock market has corrected. And it's time to start buying stocks again...
In the past eight weeks, the average large-cap stock in the S&P 500 is down 7.5%. The average small-cap stock in the Russell 2000 is down over 10%. Some stocks are down even more – 30%-plus during the same period.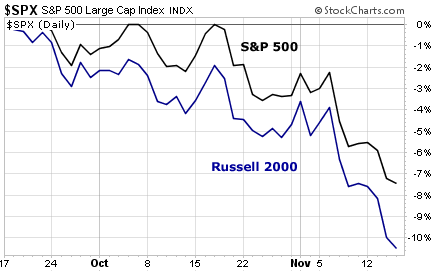 At current levels, it's time to start scaling back in to stocks. Here's why...
On Wednesday, executives from 12 of the largest companies in the world – including JPMorgan Chase, General Electric, Wal-Mart, IBM, and Coca-Cola – met with President Obama behind closed doors. The meeting was held to come up with a solution for raising taxes and cutting government spending.
You see, the government is quickly approaching the brink of a "fiscal cliff." That's the term being used to describe the potential problem the government faces when certain tax laws expire on January 1. Most investors are expecting higher taxes. But the big question is, how high?
This uncertainty has driven a tremendous amount of cash to the sidelines.
As of last week, the net long exposure of the "smart money" – in other words, hedge funds – to long and short equity funds is only 24%, according to Bank of America Merrill Lynch. Historically, these hedge funds are 40% long. That means potentially hundreds of billions of dollars could soon pour into the market.
About $1.7 trillion in cash is also sitting on corporate balance sheets. That's the equivalent of 11% of our gross domestic product.
All this idle cash is waiting for the right moment to rotate back into stocks. That moment could be less than a month away... and it could push stocks much higher from current levels.
On most of the quarterly conference calls I've listened to over the past month, the companies' CEOs have said they expect 2013 to be a strong year. They expect a rebound in Europe and China. However, they also expressed concerns over the uncertainty surrounding the fiscal cliff. It's hurting business and preventing companies from hiring new employees.
In short, cash is on the sidelines because nobody knows what the rules will be next year. Once we have a tax structure in place on health care, dividends, and individuals, this cash is likely to come roaring back into stocks.
A good place to start investing would be in
the 10 large-cap industry leading names
I wrote about a few weeks ago. Each one trades below 10 times forward earnings. And almost all of them pay at least a 2.5% yield.
I also scanned the Russell 2000 small-cap index for stocks trading under 10 times earnings. I came up with a list of 300 companies... more than one-third are growing earnings at more than 20%. I haven't seen values like this since the 2008-2009 credit crisis.
My advice is to start scaling in to stocks. The fiscal cliff issue will be resolved by mid-December. It will include higher taxes. But the rules will be in place. This will result in a lot of cash coming off the sidelines and rotating into stocks.
Good investing,
Frank Curzio