If you're looking for a way to profit from weaker paper currencies and higher precious metals prices, they're still worth a look...
Back in August,
we told you a gold rally was just days away
. Over the next six weeks, gold acted as we thought it would... and rallied from $1,625 to $1,780. The gold surge helped gold stocks gain about 20% in a month.
Since correcting 9%, however, the excitement is gone from gold stocks. There's a lot less interest in the sector now that the August/September rally is over.
But before you write off gold stocks for the next year, it's important to keep in mind that the sector is still cheap relative to the gold price.
For most of the past few years, gold stocks have lagged the price of the metal. From early 2010 to early 2012, gold gained 62%. Gold stocks gained just 22% in the same time frame. This made them extremely cheap compared to gold.
Below is a three-year chart of the ratio of
gold stocks
to gold itself. A sinking ratio indicates gold stocks are getting cheap relative to gold. As you can see, around mid-year, gold stocks became
extremely
cheap relative to the metal.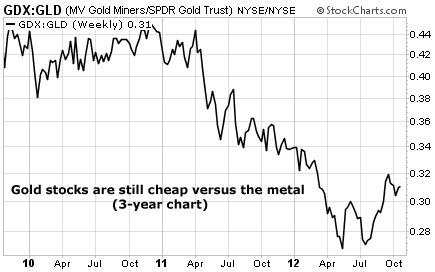 You can also see that the recent gold-stock rally made gold stocks "less cheap" relative to gold... and how the ratio increased in favor of gold stocks.
Although gold stocks are a little less cheap than they were a few months ago, the gold stock/gold ratio is still well below the average levels of the past few years. This gives them plenty of room to run higher in the next year. And if gold resumes its upward rise, the cheap gold sector will have even more power behind its next rally. So buying some gold stocks makes sense right here. And if the sector sells off a bit more, buying them makes even more sense.
Regards,
Brian Hunt