If you've taken our advice on biotech... congratulations, you're making money.
As longtime readers know, biotech can be a good friend to the trader. It's one of the greatest "boom and bust" sectors known to man. And it's in "boom mode" right now...
The biotech sector shares many characteristics with the resource sector. Like mining exploration firms, many biotechs burn through cash in search of the "next big thing." When a firm strikes it rich, the returns can easily go into the thousands of percent.
For this reason, both sectors tend to draw in "hot money" every few years and go through huge speculative booms... which are followed by big busts.
You can gauge which way the biotech wind is blowing with the SPDR Biotech Fund (XBI), which holds more than 50 companies in the sector.
The summer 2011 sell-off clobbered XBI. It then began a big recovery, gaining nearly 50% in about six months. It paused there for four months... before it finally "
broke the box
" in June and resumed its climb.
It paused for another "breather" in July and August. But this month, the fund hit an all-time high. XBI is up about 20% since our colleague Larsen Kusick pointed it out in February...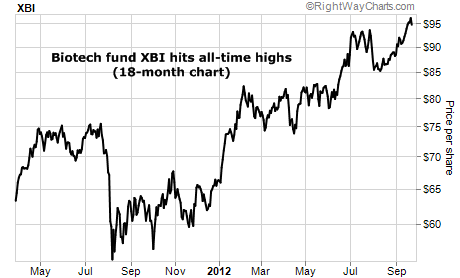 If you're making money on the biotech trend, what should you do now?
Another colleague of ours, Steve Sjuggerud, likes to say, "If you catch just one biotech bull market in your lifetime, you may never have to work again." On Friday, he told his True Wealth readers he's watching for a downward move in stocks that could be "swift and severe."
But he's not closing out of the biotech trade yet. "Don't get scared," Steve told his readers. "Just be prepared." If you own biotech, you should be prepared with your exit strategy.
Remember... the big, long-term picture for biotech stocks still looks good. The sector should continue to produce innovative treatments that draw publicity and investor dollars into the sector. But in the short term, the incredible biotech rally is due for a healthy correction. So tighten your trailing stops... and look to keep holding.
Good trading,
Amber Lee Mason and Brian Hunt