We keep close tabs on the natural resource sector because it regularly goes through huge booms and busts. Get in the booms early, avoid (even short) the busts, and you can make huge returns.
For much of the past two years, it's been all bust for natural resources. But it looks like that's changing...
We like to gauge the price action in speculative resource stocks – the "juniors" – with the S&P/TSX Venture Index. You can think of it as the "Dow Industrials of small resource stocks."
After a huge run in 2010/early 2011, Venture suffered through a big decline in late 2011/early 2012. Investors dumped the stocks because they were worried about a global recession, which would depress the price of raw materials like copper and crude oil.
But last month, we noted how the Venture had found a "toehold" in the 1,200 area.
It was a bit of bullish price action for the sector.
As you can see from our updated chart below, this small "toehold" has turned into a bigger "foothold." The Venture has rallied into the 1,300 area.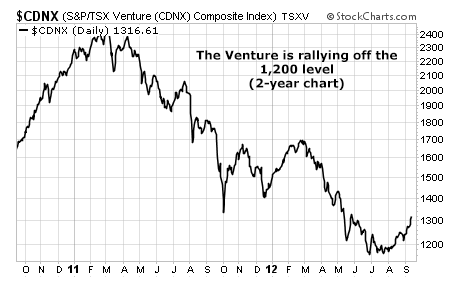 It's another bit of bullish price action for the sector. And it's driven by the U.S. and European central banks. They've agreed to provide "fiscal stimulus," which is code for printing money and providing huge amounts of cheap credit.
This is causing money to flow out of paper currencies and into gold, oil, silver, and resource stocks.
The trends in natural resource companies tend to last longer than most anyone thinks they will. That's why traders need to pay attention to this possible bottom in the Venture.
It's offering traders a place to buy low... and potentially sell high after the next boom takes hold.
Regards,
Brian Hunt