GlaxoSmithKline has a major problem.
The British pharmaceutical giant is struggling to grow sales. In fact, it looks like revenue will only increase about 4% annually over the next two years. That's an incredibly slow rate for a company trading at 13 times next year's earnings.
Its growth is slowing because some of its signature drugs – like Advair (used to treat asthma) and Avandia (used to treat diabetes) – are coming off patent. In 2010, these two drugs represented more than 20% of Glaxo's revenue.
Like I said, Glaxo has a big problem. But it's not all bad news...
On April 18, Glaxo offered to buy biotech firm Human Genome Sciences (HGSI) for $2.6 billion. I was particularly interested in the deal since I'd told my Phase 1 Investor readers to buy HGSI a few weeks earlier. (Phase 1 is a small-cap newsletter tailored to investors who are comfortable taking on a little bit of risk to make big returns.)
On April 4, I told my subscribers:
GlaxoSmithKline and HGSI have been partners since 1993. Both companies share in the revenue and profits from Benlysta [a lupus treatment]. However, with HGSI shares trading near 52-week lows, it would make sense for GlaxoSmithKline to purchase its smaller partner outright.
At less than $9 a share, GlaxoSmithKline could buy HGSI's pipeline – including the only drug approved by the FDA in the last 50 years to treat lupus... for less than $3 billion. That's not a lot of cash for a company that has $10 billion on its balance sheet and is losing market share to generic competitors.
It looks like Glaxo was seeing the numbers the same way I was. My subscribers are up 80% in two weeks.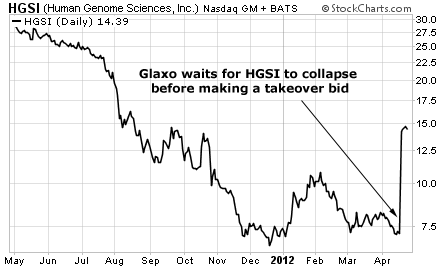 I'm happy with the result. But I'm happier to note it won't be a "one off" event. You see, there is a much bigger trend happening within the biotech space...
Most major healthcare companies are in the same boat as Glaxo. Many of their key drugs are coming off patent. That means generic companies can make similar drugs – and sell them at much cheaper prices.
Bloomberg reports that 104 drugs will lose U.S. patent protection between 2012 and 2016. Of these drugs, 44% will see generic competition over the next 20 months. In short, Big Pharma stands to lose billions of dollars in annual sales as their signature drugs come off patent.
Companies like Pfizer, Merck, and Johnson & Johnson have fortress balance sheets: Between them, they hold over $70 billion in cash. To make up for their lost sales, they'll likely use their cash hoards to acquire promising biotech plays – companies that focus on new drug development.
In fact, Big Pharma already started this trend... Three months ago, Swiss drugmaker Roche offered to buy gene-sequencing firm Illumina for $6.7 billion. On April 3, U.K. drugmaker AstraZeneca paid Amgen (one of the largest biotech companies) $50 million and 65% of the development costs to co-develop five of its early-stage inflammation drugs.
My advice is to find biotech companies with promising pipelines or drugs that are in Phase II and Phase III trials. Also, look for companies that are trading well off their 52-week highs.
This seems to be the recipe Big Pharma is using. These giants are on the hunt. They have plenty of cash to spend – and this is one of the few ways to help increase sales with many of their signature drugs coming off patent in the short term.
I'm sure we'll see more deals like Glaxo's HGSI bid take place in over the next few months and years.
Good investing,
Frank Curzio