It's that time again.
Each quarter, fund managers with over $100 million in assets under management are required to file a 13F with the Securities & Exchange Commission (SEC). In short, this means fund managers must disclose to the public which stocks they bought and sold over the past three months.
For example, David Einhorn from Greenlight Capital added to his positions in Microsoft and Apple last quarter. Billion-dollar fund manager John Paulson cut his stakes in financial giants Citigroup and Bank of America.
One interesting name that caught my attention during 13F season was Dollar General. Value investing legend Warren Buffett bought 1.5 million shares of the company. For a big investor like Buffett, that's a small position, though he'll likely build it up over the next 12 months.
Looking at the six-month chart, Dollar General fell along with the rest of the market from June through August. But then the stock regained momentum – trading just off its all-time highs.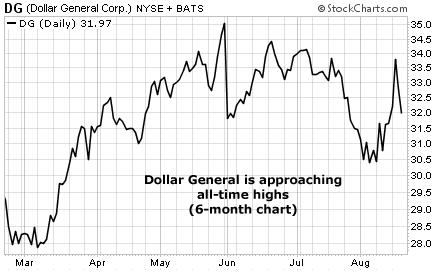 Now that Buffett is buying Dollar General, should you follow his lead?
Yes.
I normally shy away from buying companies at 52-week highs. Sure, momentum can kick in, and a company like Netflix can jump 50 points in a few months. But it's just not my style of investing. I'd rather buy companies on pullbacks.
I also don't like recommending companies right after a big-name investor starts buying. After all, shares of Dollar General jumped 5% on Tuesday – after the Buffett news. (Shares have since pulled back slightly.)
The thing is, Dollar General has plenty of upside from these levels.
Starting with valuation, the company is trading at 13 times forward earnings. That's a slight premium to the S&P 500. Despite the premium, the company is expected to grow its earnings about 17% annually over the next four years.
It's also becoming a bigger threat to Wal-Mart – the largest discount retailer in North America. In May, an analyst from research firm Avondale Partners purchased a basket of 102 items from Wal-Mart and Dollar General. The total price of goods was 9% lower at Dollar General.
Now, Dollar General, with an $11 billion market cap, is a pipsqueak compared to Wal-Mart, with a $108 billion market cap. But it's still too big for the retail behemoth to squash... and it's got plenty of room to grow.
Dollar General is opening up 550 new stores this year. The company is also expanding its frozen food and beverage offerings to better compete with larger retail companies.
So in this case, I suggest following in Buffett's footsteps. Based on fundamentals and growth potential, Dollar General has plenty more upside.
Good investing,
Frank